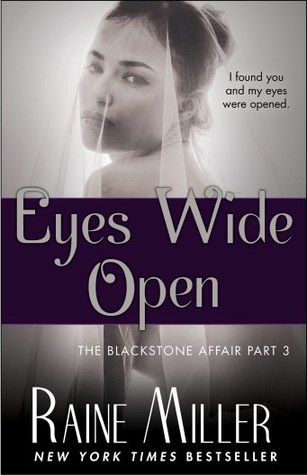 Synopsis
The third part in The Blackstone Affair series: A

love

on the brink of being destroyed. The

fight

of a lifetime to keep it alive.
Big surprises are on the horizon for Ethan and Brynne as they struggle to adjust to what life has thrown at them. Demons from the past are threatening to destroy the passionate bond they've forged despite their vow that nothing will ever keep them apart. A truly devastating loss coupled with the promise of a new hope opens their eyes to what is most important, but is it possible for the lovers to move on from the painful histories that continue to haunt them? A stalker is still lurking in the shadows, plotting evil amidst the distraction of the 2012 Olympic games in London.
Brynne
and Ethan are on the cusp of losing everything as the stakes rise. Will they yield to circumstances beyond their control or will they give every ounce of fight they have left to save each other and win the ultimate prize of a life together?
Eyes Wide Open is a passion-wrought story that shows us what pure love can achieve when tested and what the heart can accomplish despite danger and adversity.


About the author
Raine Miller has been reading romance novels since she picked up that first Barbara Cartland book at the tender age of thirteen. And it's a safe bet she'll never stop, because now she writes them too! Granted Raine's stories are edgy enough to turn Ms. Cartland in her grave,

but to her way

of thinking, a hot, sexy hero never goes out of fashion. A part-time teacher and writer of sexy romance stories every other chance she gets pretty much fills her days. She has a handsome prince of a husband, and two brilliant sons to pull her back into the real world if the writing takes her too far away. Her sons know she likes to write stories, but gratefully have never asked to read any, thank God! Raine loves to hear from readers and to chat about the characters in her books. You can contact her at raine_miller@ymail.com or visit www.RaineMiller.com to find out what she's working on now.